Information Technology Industry
Originally, Florida's Information Technology industry cluster began to develop in support of the nation's space program and was further enhanced with the introduction of the IBM Personal Computer in Boca Raton, Fla., in 1981. Today, like the state's information technology industry cluster, Broward County has since matured into a diverse hub for technology-related companies. These high-tech businesses include those that specialize in areas such as computer programming, software/application development, cyber security, simulation and training, and mobile technologies.

Information Technology Industry In Broward County
Exploring Careers In This Industry
Information Technology Project Managers: Plan, initiate, and manage information technology (IT) projects. Lead and guide the work of technical staff. Serve as liaison between business and technical aspects of projects. Plan project stages and assess business implications for each stage. Monitor progress to assure deadlines, standards, and cost targets are met.
Software Developers, Applications: Develop, create, and modify general computer applications software or specialized utility programs. Analyze user needs and develop software solutions. Design software or customize software for client use with the aim of optimizing operational efficiency.

Computer and Information Systems Managers: Plan, direct, or coordinate activities in such fields as electronic data processing, information systems, systems analysis, and computer programming.

Web Administrators: Manage web environment design, deployment, development and maintenance activities. Perform testing and quality assurance of web sites and web applications.
Geographic Information Systems Technicians: Assist scientists, technologists, or related professionals in building, maintaining, modifying, or using geographic information systems (GIS) databases. May also perform some custom application development or provide user support.
Multimedia Artists and Animators: Create special effects, animation, or other visual images using film, video, computers, or other electronic tools and media for use in products or creations, such as computer games, movies, music videos, and commercials.
Network and Computer Systems Administrators: Install, configure, and support an organization's local area network (LAN), wide area network (WAN), and Internet systems or a segment of a network system.

Information Security Analyst: Monitor security measures for the protection of computer networks and information. May ensure appropriate security controls are in place that will safeguard digital files and vital electronic infrastructure. Handles computer security breaches and viruses.
Interested in working in the information technology industry? CareerSource Broward has several training programs that can help kick-start your career. We even offer scholarships to help you pay for the education and skills! Click the button below to learn more.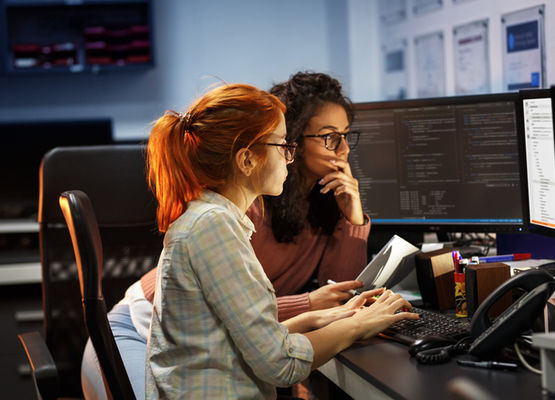 Connecting Employers With Talent
The demand for skilled workers in the IT field continue to grow. Check out how CareerSource Broward can assist your IT business with its hiring and training needs.
Learn More
Want More Information?
If your IT-related business is in need of financial assistance for recruiting and/or employee training, contact Barbara Cevieux at (954) 202-3830, ext. 3037, or by email at BCevieux@CareerSourceBroward.com.
Our Information Technology Partners