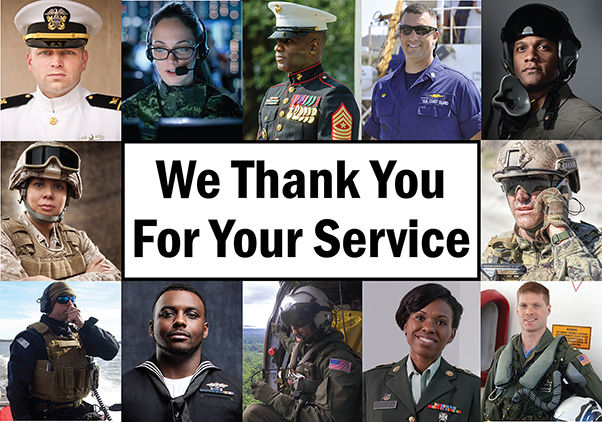 At CareerSource Broward, we recognize the service and sacrifices that our military servicemen and servicewomen have made for our nation. Our staff gives priority of service to Broward County veterans, eligible spouses and transitioning service members by providing the resources needed to secure long-term, rewarding careers.

We are a team of dedicated individuals committed to helping you succeed in your employment goals. So whether you're recently separated from the military or a veteran with many years of civilian work experience, let us help you with all of your employment-based needs.

Here's What CareerSource Broward Has To Offer
Adapting to the new challenge of social distancing, CareerSource Broward is now actively providing veterans with virtual workshop's in lieu of COVID-19 pandemic restrictions. Click here for our full list of available workshops and corresponding dates.
Are you a veteran or veteran-dependent student utilizing VA education benefits looking to work while going to college? Contact us today.
Utilizing innovative strategies, CareerSource Broward's Recruitment Events are now offered online to benefit our veterans who are unable to visit our centers. We encourage you to visit Employ Florida for our full database of open job postings.
To receive direct job-referrals from our dedicated staff, kindly complete the required online form. Completing this form will expedite the process and begin your journey towards meaningful employment.
Our dedicated VETS staff is standing by to assist all eligible veterans with their employment goals. Visit your closes CareerSource Broward center for eligibility assessment.
Get There Faster, A SkillUp® Broward Program for Military Families
A comprehensive career pathway and online training platform. NO-COST, to any Military connected unemployed or underemployed client of CareerSource Broward.
Click here for the flyer.
Click here for the brochure.
Click here for support services for job search and training.
As a transitioning veteran, becoming an intern can become the catalyst into full-time employment. The experience and overall exposure into a new field will surely assist you within your new career. Register here and research your options!
Use our Military Occupation Service (MOS) translator to convert your MOS/AFSC/Rating code to a civilian occupation. Upon searching, you will be presented with a list of civilian occupation titles that match your military skill set. From the results list, you can easily search in our military-friendly jobs database for jobs that match the civilian occupations that you desire.
CareerSource Broward is partnered with local community partners who focus on providing eligible veterans with employment related resources. Visit the Florida Department of Veteran's Affairs brochure for further information.
At CareerSource Broward, we extended our Priority of Service benefits to those spouses who fall under the eligibility criteria. These services also include access to our dedicated VETS Staff. Visit any of our three career centers to find out if you are eligible.
Get In Touch!
Ready to connect with a member of our team? Tell us a little more about yourself and how we can assist you with your employment needs by filling out our short Veteran Intake Survey below. You can also give us a call or send us an email.
Phone: (954) 967-1010, ext. 234