Healthcare / Life Sciences Industry
Broward County's healthcare industry cluster is comprised of both the healthcare and the biosciences industries. Careers in this industry sector include pharmaceutical preparation manufacturing, surgical and medical instrument manufacturing, physicians, dentists, outpatient care centers operations, home health aides and more. Employment of healthcare occupations is projected to grow 19 percent from 2014 to 2024, adding about 2.3 million new jobs. Healthcare-related occupations are expected to add more jobs than any other group of occupations. This growth is expected due to an aging population, as well as an increase of individuals who have gained access to health insurance.
Healthcare Industry In Broward County
119,706
Industry-Related Jobs
Exploring Careers In This Industry
Registered Nurses: Assess patient health problems and needs, develop and implement nursing care plans, and maintain medical records. Administer nursing care to ill, injured, convalescent, or disabled patients.
Medical Assistants: Perform administrative and certain clinical duties under the direction of a physician. Administrative duties may include scheduling appointments, maintaining medical records, billing, and coding information for insurance purposes.
Pharmacy Technicians: Prepare medications under the direction of a pharmacist. May measure, mix, count out, label, and record amounts and dosages of medications according to prescription orders.
Bioinformatics Scientists: Conduct research using bioinformatics theory and methods in areas such as pharmaceuticals, medical technology, biotechnology, computational biology, proteomics, computer information science, biology and medical informatics.
Dental Hygienists: Clean teeth and examine oral areas, head, and neck for signs of oral disease. May educate patients on oral hygiene, take and develop x rays, or apply fluoride or sealant.
Emergency Medical Technicians: Assess injuries and illnesses and administer basic emergency medical care. May transport injured or sick persons to medical facilities.
Paramedics: Administer basic or advanced emergency medical care and assess injuries and illnesses. May administer medication intravenously, use equipment such as EKGs, or administer advanced life support to sick or injured individuals.
Respiratory Therapists: Assess, treat, and care for patients with breathing disorders. Assume primary responsibility for all respiratory care modalities, including the supervision of respiratory therapy technicians.
Additional occupations can be found by clicking here.
Interested in working in the healthcare/life sciences industry? CareerSource Broward has several training programs that can help kick-start your career. We even offer scholarships that can save you up to $12,000 toward your education and career training! Click the button below to learn more.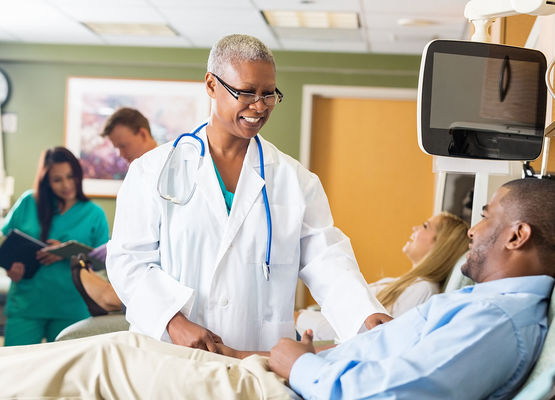 Connecting Employers With Talent
Employment of healthcare occupations is projected to grow 19 percent from 2014 to 2024, much faster than the average for all occupations, adding about 2.3 million new jobs. Find out how CareerSource Broward can assist your healthcare business with your hiring and training needs.
Learn More
Want More Information?
If your healthcare-related business is in need of financial assistance for recruiting and/or employee training, contact Bonni Smith at (954) 609-7969 or by email at bsmith@careersourcebroward.com.
Our Healthcare Industry Partners