The construction industry cluster In Broward County are made up of economic sectors such as residential building construction, plumbing, roofing, land subdivision control, street and highway maintenance, bridge repairs, solar panel installation and more. Higher wages are found in occupations with greater training requirements, and 14 of the 15 largest construction occupations require additional certification beyond a high school diploma.
Construction Industry In Broward County
Exploring Careers In This Industry
Construction Laborers: Perform tasks involving physical labor at construction sites. May operate hand and power tools of all types: air hammers, earth tampers, cement mixers, small mechanical hoists, surveying and measuring equipment, and a variety of other equipment and instruments.
Construction Carpenters: Construct, erect, install, and repair structures and fixtures of wood, plywood, and wallboard, using carpenter's hand tools and power tools.
Solar Installer: Install or repair solar energy systems designed to collect, store, and circulate solar-heated water for residential, commercial or industrial use.
Electricians: Install, maintain, and repair electrical wiring, equipment, and fixtures. Ensure that work is in accordance with relevant codes. May install or service street lights, intercom systems, or electrical control systems.
Plumbers: Assemble, install, or repair pipes, fittings, or fixtures of heating, water, or drainage systems, according to specifications or plumbing codes.
Roofers: Cover roofs of structures with shingles, slate, asphalt, aluminum, wood, or related materials. May spray roofs, sidings, and walls with material to bind, seal, insulate, or soundproof sections of structures.
Heating & Air Conditioning (HVAC) Mechanics & Installers: Install, service, or repair heating and air conditioning systems in residences or commercial establishments.
Interested in working in the construction industry? CareerSource Broward has several training programs that can help kick-start your career. We even offer scholarships that can save you up to $12,000 toward your education and career training! Click the button below to learn more.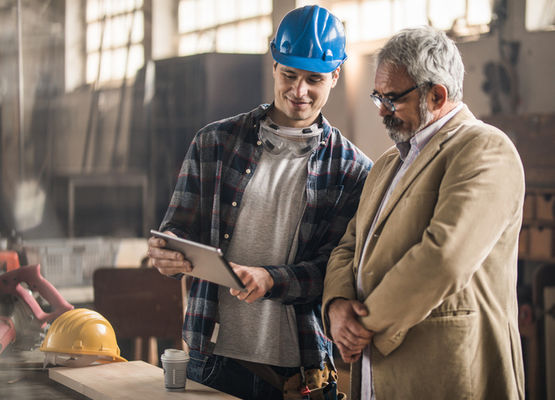 Connecting Employers With Talent
With more than 1.9 million residents, the construction industry continues to be one of the fastest-growing economic sectors in all of South Florida. Find out how CareerSource Broward can assist your construction-related business with its hiring and training needs.
Learn More
Want More Information?
If your construction-related business is in need of financial assistance for recruiting and/or employee training, contact Barbara Cevieux at (954) 202-3830, ext. 3037, or by email at BCevieux@CareerSourceBroward.com.
Our Construction Industry Partners